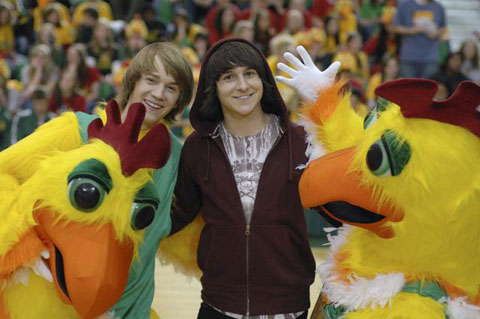 Legendary mascot performer, Ted Giannoulas, The Famous San Diego Chicken was a consultant and stuntman for the Disney movie Hatching Pete, a family oriented comedy about an under the radar teen who emerges as the comical chicken mascot of the loved high school basketball team.
Hatching Pete premiered FRIDAY, APRIL 24, 8PM ET/PT on Disney Channel with a simulcast on Sprint TV and MobiTV and Disney Channel on Demand on Friday, April 17. The movie stars: Jason Dolley ("Cory in the House," "Minutemen"), Mitchel Musso ("Hannah Montana," "Phineas and Ferb"), Tiffany Thornton ("Sonny With A Chance"), Brian Stepanek ("Brian O'Brian," "The Suite Life of Zack & Cody") and Josie Loren. The film is also now available on DVD.
On the set, Giannoulas gave hints and pointers on how to act chicken. Dolley said, "Ted basically showed us the ropes. The trick is letting go completely of yourself and channeling you're inner chicken or you're just going to look like a guy in a chicken suit out there."
In the story line, Pete Ivey (Jason Dolley), a shy 16 year-old is convinced by his best friend Cleatus Poole (Mitchel Musso) to take over the mascot duties as an allergy to the suit prevents Poole from performing thus breaking the long family tradition. Despite taking over the duties in the suit, Pete and Cleatus keep the identity swap secret from the rest of Brewster High.
The movie has a TV-G parental rating.